Work with us!
Rite of Passage and Sew Co., a design and production studio, are looking for candidates with a strong work-ethic, excellent organizational and communication skills, and enthusiasm for quality and craft.
We offer a friendly, flexible, and democratic work environment for team-oriented candidates. Our crew supports each other in each and every task and promotes a collective approach to problem-solving and progress. We are a vibrant, empowered, and engaged staff of skilled craftspeople who practice radical financial transparency and deliver on quality and customer service.

All positions are located in Asheville, NC's River Arts District.
 Detailed job descriptions for open positions can be found below.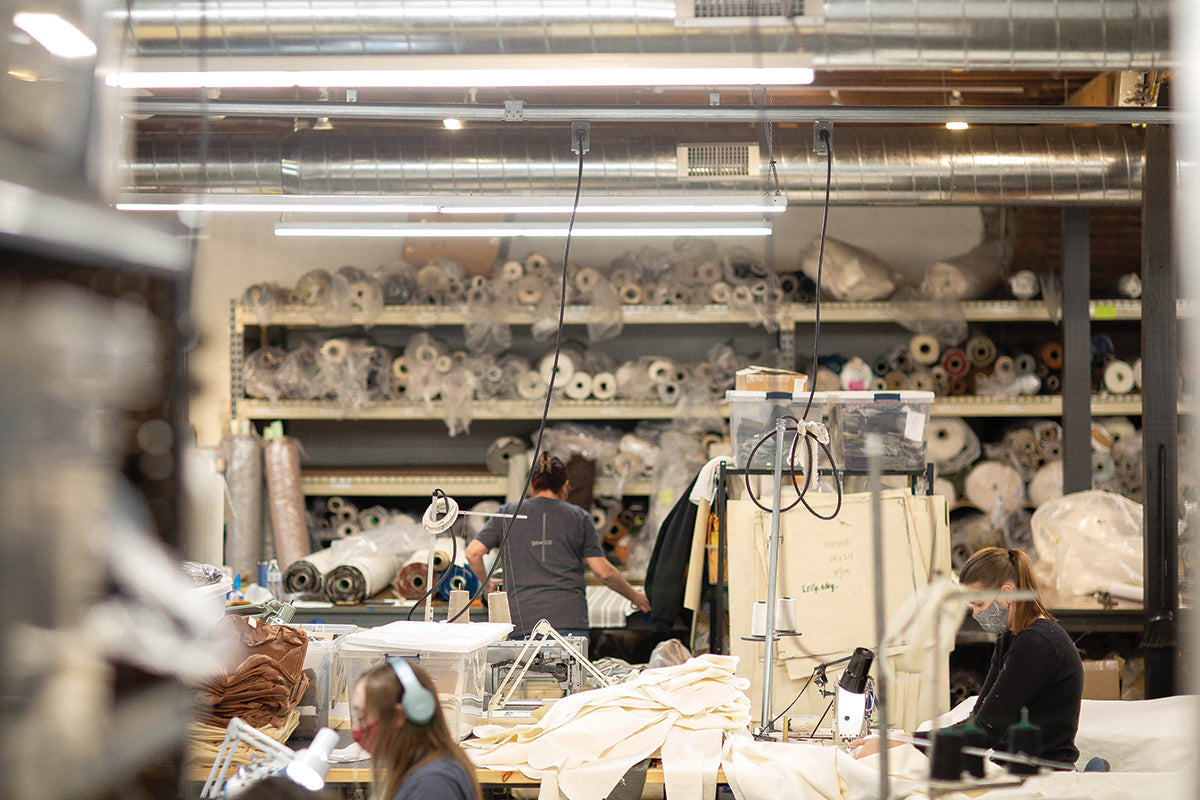 We are looking for a Retail/Marketing Specialist who appreciates the poetry of our craft, as well as the importance of domestic manufacturing in the garment and textile industries. This position has some flexibility depending on the candidate's experience, interests, and time commitment (full- vs. part-time).
Retail Sales Responsibilities:
Represent Rite of Passage as the sales associate for our retail store front
Provide excellent customer service and education to visitors and customers
Sell high-margin products (and connect with and share the story behind our pieces)
Use Shopify POS system for sales, inventory management, order fulfillment, etc.
Work with the Design and Production Teams to request product replenishment
Evaluate sales figures and analyze sales trends
Maintain neat and orderly work spaces
Merchandise store with direction from Management Team
Maintain signage and pricing on product
Learn and share product knowledge
Marketing Responsibilities:
Work closely with founders to maintain their vision and brand voice
Develop, plan, and execute newsletter marketing and social media content
Plan, promote, and execute in-shop events and pop-ups
Manage (or assist with) product launches on website
Develop new and relevant website content
Plan and execute other marketing initiatives
Analyze and apply market trends and research to current and future initiatives
Goals:
Sell high-margin products
Identify key customers and profiles for targeted marketing
Collaborate with community and clients on special products & events
Build brand awareness
Participate in a culture of agency and cooperation with our entire team
Understand and participate in company's financial statements, planning, and projections
Qualifications:
Previous experience in sales and/or marketing
Comfort and skill selling high-margin products and interacting with customers and the public
Ability to multi-task, working towards long-term goals and initiatives while also meeting weekly and monthly sales goals
Must be willing to work weekends
Compensation:
$18/hr + depending on experience, time commitment (full- or part-time), and breadth of participation
Generous PTO and paid holidays
Rite of Passage clothing stipend
(versión en español abajo)
We are looking for industrial sewing machine operators to construct home and apparel textile goods. We will train candidates with hand skills or good hand/eye coordination. Comfort with attachments, binders and sergers is a plus!
Responsibilities:
Sew on industrial sewing machines
Review technical specifications of product construction details
Work with team to move through projects collaboratively
Maintain a high standard of quality throughout all operations
Maintain neat, orderly work spaces
Goals:
Identify and implement work room efficiencies
Understand and participate in company's financial statements, planning, and projections
Qualifications:
Ability to organize work flow and complete tasks accurately
Great communication skills
Familiarity with industrial sewing and cutting equipment (a plus)
Work experience in textile-based company (a plus)
Textile knowledge of weave structures, pattern-making and refined sewing skills (a plus)
Compensation:
Pay starts at $17.33/hr + for a trial period of 3 months. Following, the trial, pay increases to $18.56+, depending on experience.
Generous PTO and paid holidays
Rite of Passage clothing stipend
///
Nuestro equipo creativo busca operador/a/e de máquina de coser tipo industrial para construir ropa y artículos del hogar. Ofrecemos entrenamiento a candidato/a/es con coordinación ojo-mano. 
Sew Co. es un taller de diseño y producción y estamos buscando un candidato/a/es quien tiene una ética laboral fuerte, talentos organizacionales y comunicativos, y entusiasmo con la calidad y las artesanías. Ofrecemos un ambiente laboral amable, flexible y democrático. Nuestro equipo funciona colaborativamente y aborda colectivamente la resolución de problemas.
Ubicado en Asheville, NC. 
Objetivos:
coser usando una máquina tipo industrial
revisar especificaciones técnicas de la construcción de productos
trabajar en equipo para finalizar trabajos colaborativamente
examinar productos para el control de calidad
mantener organizado su espacio de trabajo
Requisitos:
habilidad de completar trabajos con exactitud
aptitudes de comunicación excelentes
Calificaciones extras:
experiencia laboral con productos textiles
familiaridad con equipamiento industrial para coser y cortar
conocimiento de estructuras tejidos, técnicas avanzadas de costura
Sueldo/Beneficios:
$17.33+ durante los tres primeros meses; desde entonces, $18.56+ (depende de la experiencia) 
días feriados pagados y tiempo libre remunerado generoso
estipendio para ropa de Rite of Passage
Submit an application (link above) and select the position "other."