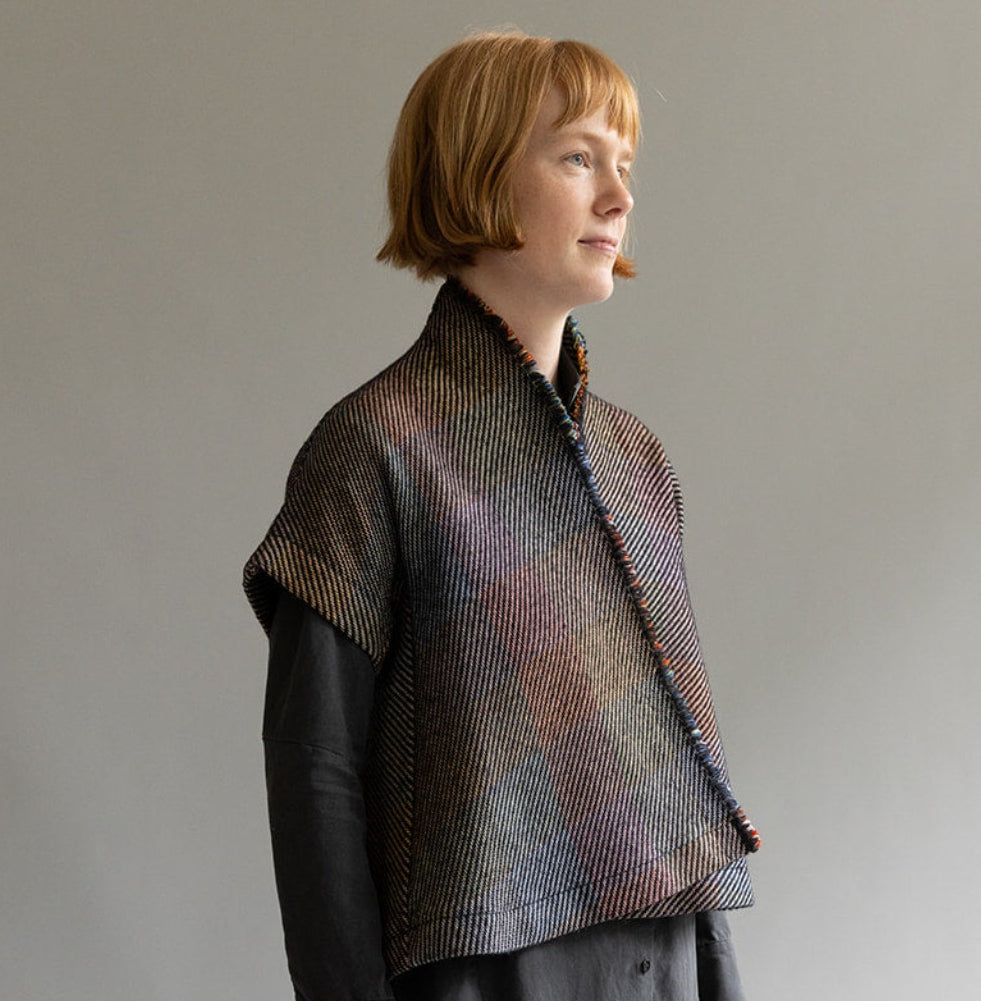 Arco Envelop Cardigan on Sari
Rite of Passage co-founder Libby O'Bryan talked with Emily Winter, co-founder of the Weaving Mill in Chicago, about the fabric used to create RoP's Arco Envelop Coat. Below are Emily's thoughts about the fabric, the collaboration, and the Weaving Mill's unique and vital model in our shared industry. 
Emily, would you talk about why, and how, this fabric glows?
Annie Irwin and I were really thinking about color calibration and systems in our collaboration — and the interaction of color and pattern through different materials and weave constructions.

In the background stripe of this fabric, there's a muted CMYK planted warp, playing with a kind of subtle plaid: what I would call a background color-play of this sort of larger checkerboard.
Arco Envelop Cardigan on Sari
There's a combination of cotton yarns (in weft and warp, like a cotton plainweave) and then this screen of a wool twill structure that sort of flows over that plaid in a filtered way.
Annie said something I thought was quite nice about this fabric, which is that the plot in particular is an interesting example of interference of color-over-color on multiple levels — an idea of color interference.
Without getting too technical here, there's a 60 or 80 percent black present with these CMYK colors, making them muted versions of those base colors. What happens is this fabric creates strange optical effects of color where your brain kind of does these tricks where the colors start to transform into their lighter versions, when you look closely.
+++ 
How did you react, seeing your fabric shaped into the Arco Envelop Cardigan?
We got the pictures and Annie said, this is really stunning. And then she said, I love that it harkens back to Irish or Scottish women in the fields or homestead in my mind's eye. Yes. That was where her imagination took her.
+++ 
Tell us a little more about the Weaving Mill and its artist-centered vision. 
The Weaving Mill is an artist-run industrial weaving studio in Chicago. We make projects of our own and design and make fabric in collaboration with others like Rite of Passage. We partner with the social services agency Envision Unlimited, providing textile education workshops for adults with developmental disabilities. We also host an experimental artist residency program.
Emily Winter, photographed by Sarah Flotard
I founded the Weaving Mill with Matti Sloman in 2015. Today, the mill consists of myself, Kendall Schauder, and Alexa Kudrak (seamstress, stitcher, and pattern designer) along with many and varied friends and supporters. We're not big on job titles, but do like ship metaphors! Captain, first mate...
We run a program called WEFT, Westtown Education for Textiles, an open studio weaving program a couple days a week. It's one of our main pillars. We have a rotating roster of 20-30 participants weaving in the class, producing handwoven goods like tote bags, rugs, placemats, and pillows. We design collectively and used scrapped materials, with 60 percent of sales to the weavers and 40 percent back to the program's budget.
What we have cultivated and seen is that people love to weave. We have folks who've been weaving a couple of days a week for five years, and it's been really amazing to see how people like comfort level with the process has grown. —Emily Winter, co-founder of The Weaving Mill
+++