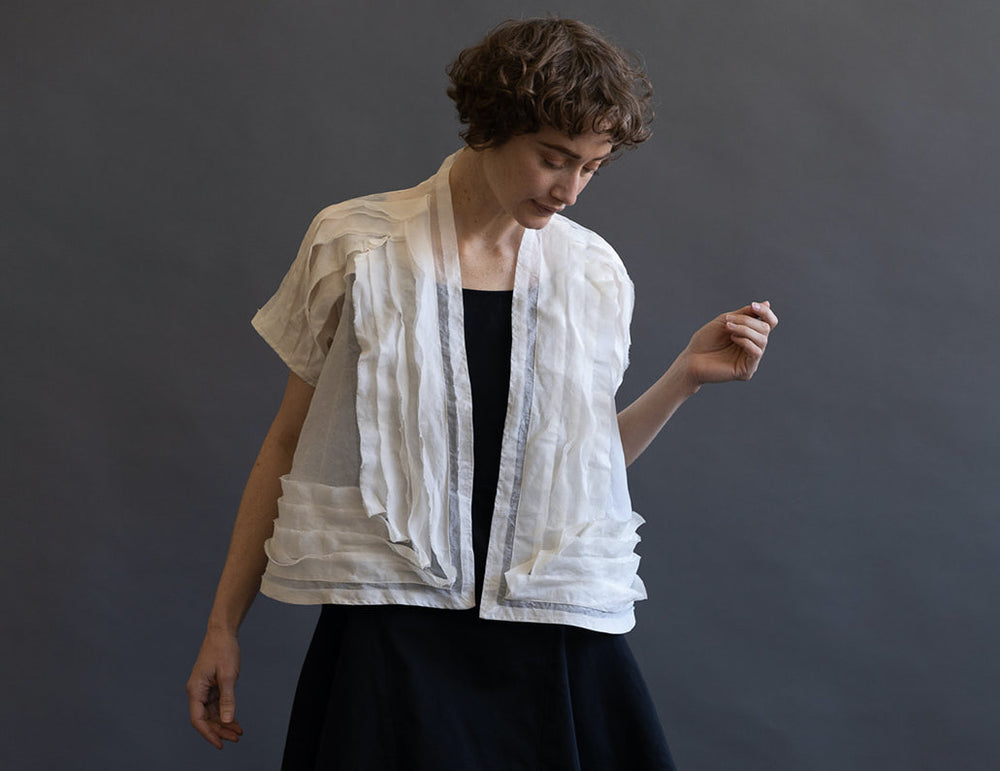 Our Lamellar Cardigan is a delicate, strong, sculptural piece in silk organza available in Garnet, Black, White, or Canary.
Designer Giovanni Daina-Palermo shared his thoughts about this multi-season garment and the unlikely connection between armor and silk.
+++
Hi Giovanni. Where did you draw inspiration for the Lamellar Cardigan?
+
Lamellar refers to thin plates or layers in a structure, also known as lamellae. 
This piece is inspired by the layered, thin, small rectangular plates on armor. 
We made the silk into continuous bias-cut strips, layered in a geometric pattern that follow the shoulder, front edges, and along the hem.
 I think of this piece as a skin as well, which also goes back to the definition of lamellar.
I love the play on the expectation of a cardigan being a more weighty or heavy garment. How do you imagine this being worn/experienced as part of a winter style?
+
Cardigans were originally sleeveless waistcoats, and the word as it is used today makes me think of something slouchy and easy to wear. It's definitely that. I imagine it layered over one of our silk dresses or belted over the Silk Meridian Top with Wool Liminal Pants.
+
This piece can be worn for evening or in a casual way as well — over a t-shirt with your favorite pair of jeans.