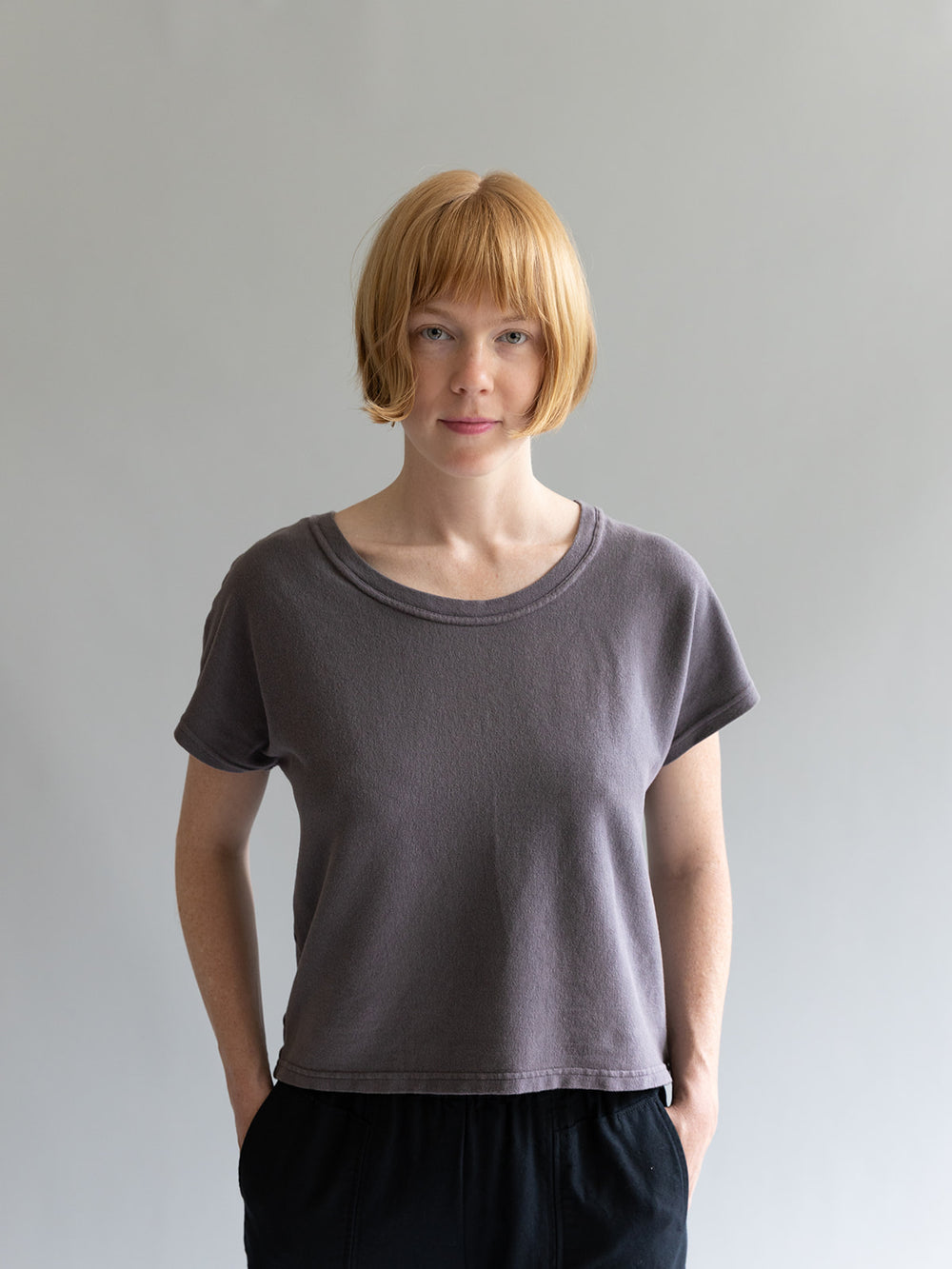 Virga Tee (Rite of Passage + Solid State Clothing) on Sari
A Carolina Collaboration.
Our friends at Solid State walk the walk. Based in Burlington, NC, they source their own Cotton of the Carolinas from third-generation NC cotton farmer Andrew Burleson. From gin to spin, knit to finish, Solid State Clothing's classic t-shirts are local, intentional, sustainable.
Which is why we leapt at the chance to collaborate. This season, Rite of Passage designer Giovanni Daina-Palermo used Solid State's North Carolina grown rib-jersey fabric and designed the Virga Tee and Goddess Cardigan. Typically used for a neck/cuff trim, the fabric creates a structured experience  — an unusual high-brow interplay of form with Solid State cotton's softness.
Recently, Rite of Passage director Libby O'Bryan had the chance to talk with Solid State Clothing's brand manager, Courtney Lockemer, about Solid State and Rite of Passage's shared purpose and active alliance in the Carolina Textile District. Here's just a snippet of their exchange about intention, choosing local, and the Rite of Passage spin on the t-shirt (a bow to Solid State's solid dedication to that form).
 +++
Libby + Courtney on collaboration and craft.
Libby O'Bryan: I think it's really important to lift up the role that clothes play in our lives. Like the food that we eat, we could be really thinking about our clothes and how they are made and sourced. Letting that permeate.
Courtney Lockemer: Yes, agreed. If it's good and created that intentional way it feels so different to use. When an object that has been made with intention and care by someone, like handmade pottery — it feels so different to drink out of a handmade mug than one that you get at Target. And I know the ones at Target were made by people too but not in a situation where they're allowed to put their own personality into it.
If it's good and created that intentional way, it feels so different to use.
LO: It's not just about the hands but how the hands are being treated. 
CL: Yes. I can talk about this forever. But tell me about the Goddess Cardigan and the Virga Tee that you made with our fabric. What was the design process for Giovanni and how does this collaboration fit for Rite of Passage? 
LO: I love how Giovanni [Giovanni Daina-Palermo, Rite of Passage designer] subverted the idea of the t-shirt, making something fashion-forward. That was the idea. He used a woven textile as the placket for the Goddess Cardigan. The Virga Tee is super-cropped with a little dolman sleeve. The Goddess Cardigan is fitted and has a longer sleeve that comes right to the elbow. And that sweet button-up placket.
Goddess Cardigan (Rite of Passage + Solid State Clothing) on Sari
 
CL: I really love that. The rib, the fabric that you use, is just in our neckline and cuffs: you wouldn't really notice it. You place it front and center. And explore the qualities of that fabric. It's really interesting, the relationship between this sort of play with our t-shirt game at Solid State. 
Solid State is very much inspired by vintage, classic t-shirts. A thing designed for utility that became totally iconic. And it was an undergarment! Something people wore to run around in. Now it's a fashion piece, even in its most basic form.
 +++
It's not just about the hands but how the hands are being treated. 
Andrew Burleson, NC cotton farmer and source for Solid State's Cotton of the Carolinas, wearing the Solid State North Carolina T-Shirt.

+++
Read more.
Discover Solid State Clothing.