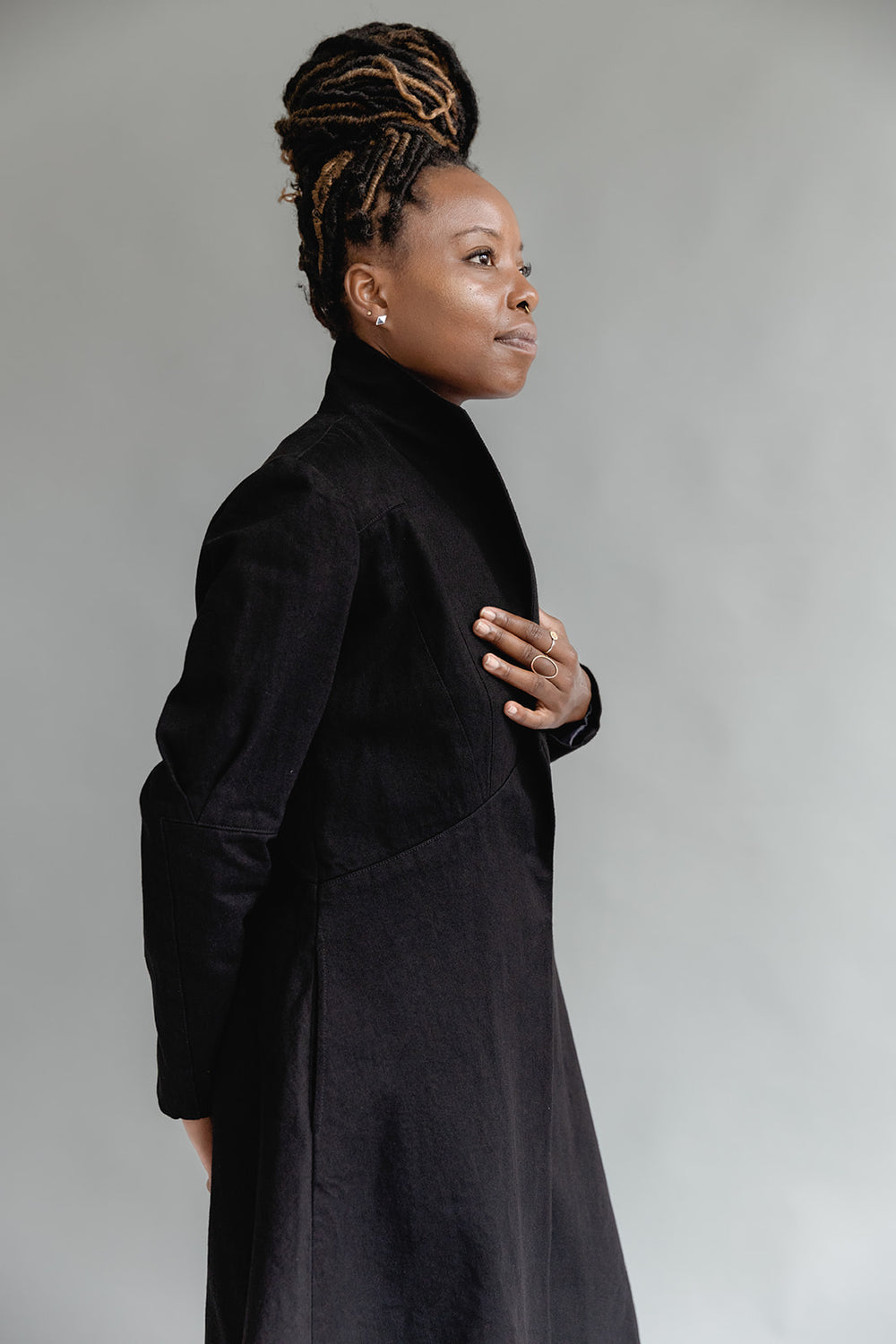 Raven's Coat on Karis
I am an educator, lifelong learner, adrenaline seeker, and disruptor. I find value in serving my community and advocating for people of color.
—Karis Marie Roberts
+++ 
Karis, what was your favorite Rite of Passage garment to model?
Easy! The Raven's Coat. PERFECT FIT. PERFECT LENGTH. PERFECT COLOR. Definitely a power coat.
What are your favorite places to eat and drink in Asheville?

Zambra, La Bodega Cúrate, Little Chango, La Rumba, Guajiro, Gemelli's, Jettie Rae's, Neng Jr.'s.
Drinks: any local craft brewery, distillery, meadery, or cidery! I am the Executive Director of the Asheville Brewers Alliance and proudly support our local beverage producers. My favorite nighttime haunts for cocktails are Little Jumbo, Anoche, and The Crucible.
What has inspired you recently?
These books: The Way Forward by Yung Pueblo, Dare To Let Go by Alexandra Vasiliu, Flowers On The Moon by Billy Chapata, and The How by Yrsa Daley-Ward. Also the film Utama.
Do you have a connection with craft, sewing, or to the joy of clothing in general that you would like to share?
Yes, when the pandemic began, I had just quit my teaching job and wanted to learn a trade. I picked up leathersmithing and sewing through a friend. Though I no longer sew as a profession, I love creating art through modeling and film photography. I am inspired by my friends who are artists and creators in my community.